Layered hairstyles are those hairstyles where the hair is cut in such a way that the ends of individual hairs have different end points relative to one another. All the hairs are not uniform in length but are instead in different layers. The hair is layered maximum at the sides. Generally, the middle hair which lies at the back is longer when compared to the side hairs. These layered hairstyles can be completely straight, semi-curly or completely curly models.
This is one of the most popular layered hairstyles. In this case, the hair is completely straight. The hair at the back is longer compared to the hair at the sides. This is a common layered hairstyle which is suitable on all outfits.
The hair in this image is less layered. The hair is layered only in the front. The hair at the bottom is semi-curly. This hairstyle looks good on all outfits, especially on casuals.
For a complete step-by-step video course on hairdressing and hairstyling, Click Here!
This is a completely curly layered hairstyle. This is suitable for both short and medium length hair. This hairstyle has a bulgy look so that the volume of hair looks a bit more than normal. This is an elegant hairstyle. The layering is done from the middle, covering the neck and the ears.
This hairstyle is straight in the front and is very short. The hair at the back is curly and long. This hairstyle looks beautiful on all outfits. It also gives a modern and trendy look.
This hairstyle is a fully layered. Though this layered cut is often used with colored hair like in the image above but it works very well with black color too. This hairstyle is more fashionable and looks good on casuals as well as on formals. The hair has a cut at the front, which makes the hair to fall on the sides of the face.
This is also a cute and fashionable layered hairstyle. This hairstyle is straight and has slight curves at the ends. This is a very good hairstyle and looks cute on suitable faces.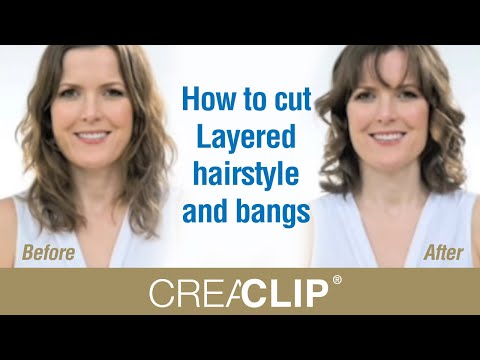 This is a tutorial video which shows how the hair is layered and how the side bangs are created. The hairstyle made is stunning and gorgeous.
Credits: Img 1, Img 2, Img 3, Img 4, Img 5, Img 6